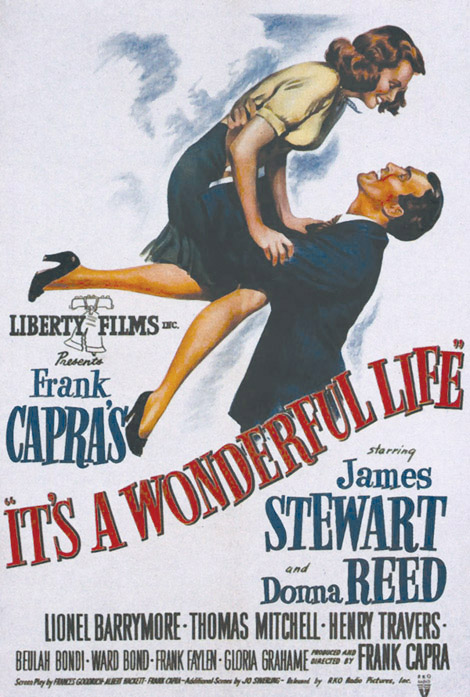 "It's a Wonderful Life" (1946)
This tale of a man down on his luck and in financial straits who wished he'd never been born is more timely than ever considering the current economic climate. And I dare your heart not to warm when George Bailey runs through the town wishing every inanimate object a Merry Christmas.
"A Christmas Story" (1983)
No matter how old you are, the themes in this movie are universal, from getting bullied to waiting until your father gets home to trying to navigate your way around while wearing a snowsuit. It's one of the funniest, and most realistic, portrayals of Christmas of all time. Not to mention, it inspired thousands of kids to lick a frozen flagpole (if you've never tried it, go ahead and do it right now ... we'll wait).
"A Christmas Carol"
This classic Dickens tale never gets old. In fact, its popularity is so immense, there are dozens of movie versions to pick from. Our top three? "The Muppet Christmas Carol," the animated "A Christmas Carol" starring the voice of Jim Carrey and the 1951 version starring Alastair Sim.
"Love, Actually" (2003)
Love actually is all around and nothing will make you feel it more than this modern day holiday hit. Intertwining several love stories in the weeks leading up to Christmas, it's sweet, funny and worth seeing alone just for the scene in which Hugh Grant dances to "Jump (For My Love)" by the Pointer Sister.
"White Christmas" (1954)
Bing Crosby, Danny Kaye AND Rosemary Clooney. All in one movie. All singing and dancing. Enough said.
"Christmas in Connecticut" (1945)
Although not as well known as some other Christmas movies made around the same time, this comedy of errors is just as timeless. A famed food writer played by Barbara Stanwyck has been lying for years about being the perfect housewife, when in reality she's not married and can't even boil an egg. So when her boss and a returning war hero invite themselves to her "farm" for a traditional family Christmas, she must figure out a way to cover her deception.
"The Nightmare Before Christmas" (1993)
Tim Burton's cult hit is the perfect antidote to the abundance of overly-sweet holiday movies out there. This off-beat animated musical tells the story of Jack Skellington, king of Halloweentown, who discovers Christmas Town and is so taken with the holiday that he tries get his ghoulish friends to help him put on Christmas.
"National Lampoon's Christmas Vacation" (1989)
The harder Clark Griswold (played by Chevy Chase at his finest) tries to create the perfect Christmas, the worse things get. This classic comedy is sure to make you feel better about having to deal with all those tangled lights and obnoxious family members.
"Dr. Seuss' How the Grinch Stole Christmas" (1966)
We love you, Jim Carrey, but we're going with the animated version for this one. Although technically not a movie, the magic of DVDs has brought this TV special into our homes whenever we want and it just isn't Christmas without hearing "You're a Mean One, Mr. Grinch."
"Bad Santa" (2003)
For the bah-humbug that resides in all of us (more in some than others), "Bad Santa" is the perfect movie to watch when all the Christmas cheer seems a bit too much to take. Surprisingly, however, this black comedy has a feel-good message at the end.